Don Julio - Buenos Aires
Buenos Aires, Palermo Soho
Ambience

90%

Service

80%

Food

80%

Creativity

70%

Value

80%
Restaurant Details
Restaurant Details
Don Julio - Buenos Aires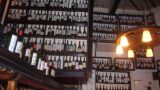 Locale: Buenos Aires, Palermo Soho
Address: Guatemala 4699
Telephone: +54 11 4832-6058
Restaurant Type: Casual Dining, Steakhouse
Cuisine: Grilled Steaks
Service Type: Table Service
Price: $$$$
Menu items offered: Desserts, Empanadas, Grilled Steaks, Salads
Hours:
Mon-Sun 12pm to 4pm & 7pm to 1am, ,

Review Summary
Don Julio's walls filled with empty wine bottles left behind by patrons are the focal point of this interesting and highly popular steakhouse. Despite recent price increase it's still one of our two favorite steakhouse in Palermo Soho.

The full review for Don Julio - Buenos Aires
Review by: Ollie O Rating: 4.1 stars Review Date: 01/23/2018
Don Julio is an Argentine steakhouse that always comes up when the conversation turns to where to go for a steak in Buenos Aires. On a Saturday night, we arrived at Don Julio early, at about 8:45 p.m., attempting to avoid a wait. No such luck. This place is popular with locals and tourists to boot. We were told it would be a 40-minute wait and that estimate was within a couple of minutes of when we finally earned a table. We were graciously offered multiple glasses of bubbly while we waited. This place was bustling. Great for people watching. So the 40 minutes went by, lickety split.
This restaurant is your basic, emblematic Argentine steakhouse. Lots of big rustic chandeliers. A couple of poster size diagrams of pigs and cows showing the names of each cut of meat.But the primary focus of the décor at Don Julio has a story behind it. There are hundreds of empty wine bottles on the walls with inscriptions scribbled on the label with a black indelible ink marker. There are plenty of images in the slider to see what I'm referring to.It turns out that some years ago a couple celebrating 25 years of marriage was dining at Don Julio in its fledgling years. The waiter suggested to the couple that they should memorialize the moment on the label of the wine bottle. The waiter handed them a black marker and one of them captured the moment with their names, the occasion and the date. Oddly enough, after all this theatrics, the memento was left behind by the couple (not doubt, after finishing a second bottle of wine), and the proprietors decided to place it up on the mantel for all to see. Some 15 years later, hundreds of other patrons have memorialized their dining experience, left the bottle behind, and thereby created the atmosphere (along with some extremely thick cuts of meat) that makes this place ... Don Julio.We were finally seated up on the second floor, after traversing a narrow, steep staircase, to a table with a balcony view to the kitchen and dining room below. This was okay with me as some of my best memories were of time spent on balconies.The waiters, despite being very busy, seemed to be able to stay on top of it all. Service was good throughout the entire meal. No long waits for anything.Don Julio offers a limited menu. Steaks, steaks, steaks ... and if you can find room for it some fried potatoes or a salad.We started out with a chorizo smoked sausage. Very juicy. Very good. And then we had the Chef's Salad consisting of a bowl of arugula garnished with cubes of pumpkin, white cheese and a sweet beet vinaigrette. I've complained about salads in Buenos Aires until I'm out of breath. This one was actually pretty unique and better than most. But still, unimaginative. No need for the boring oil and vinegar they set on the table. This salad comes adequately dressed. If you're opting for a salad this is a good choice.After several months of eating burgers and fries for our Burger Joint Face-off we elected to skip the carbs in the potatoes.If there is something that is unique about Don Julio (other than the hundreds of empty wine bottles on the wall) it's the thick-cut steaks. They are cut about 50% thicker than steaks at most of the other steakhouses in town. This has two advantages. First, they just taste better when they're thick. I don't know why. They just do. Secondly, it's way harder to overcook a thick steak so that when you order one medium rare you actually get one that's medium rare. Sounds simplistic but believe me, getting a true medium rare steak in Buenos Aires is next to impossible. Well ... That's how we ordered it and that's how it came. A deep red in the center, pink toward the outer edge with a crisp seared exterior. Perfect.When we asked the waiter whether these tender steaks were aged he replied, "They're aged on the cow." My steak was the poster child for quality Argentine beef. The better varieties provide tender steak with a rich beefy flavor that doesn't require corn feeding or aging. This was a very good steak without the necessity of all that modern day hoopla.Don Julio's popularity has led to significantly higher prices than when we last visited the restaurant in late-2015. Accordingly, we've lowered our value rating slightly. As pleasant as Don Julio is, it's not necessarily worth the wait and all the hoopla. But we still prefer it to La Cabrera, which has an even longer wait for a table during peak hours.Nearby Calden del Soho is a respectable alternative if you're wanting to avoid the crowd and still experience a quality steak in a pleasant ambience.


Click the restaurant name or image to read the review
No items found
Click the restaurant image to read the review
No items found