Diggs - Buenos Aires
Buenos Aires, Palermo, Palermo Soho
Ambience

75%

Service

75%

Food

85%

Creativity

85%

Value

80%
Restaurant Details
Diggs - Buenos Aires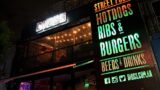 Locale: Buenos Aires, Palermo, Palermo Soho
Address: Serrano 1580
Telephone: +54 11 4833-0447
Restaurant Type: Gastropub
Cuisine: Burgers, Hot Dogs
Service Type: Table Service
Price: $$$
Menu items offered: Coffee, Desserts, Hamburgers, Hot Dogs, Roasted Meat Dishes, Smoked Meat Dishes
Hours:
Mon: 5pm to 12am & Tue-Wed: 5pm to 3am, Thu: 11am to 3am & Fri-Sat: 11am to 5am, Sun: 11am to 3am

Review Summary
Diggs brewpub offers good beer, burgers, ribs and dogs. Best gourmet hot dogs in Buenos Aires, utilizing the tastiest sausages. Worth a visit!

The full review for Diggs - Buenos Aires
Review by: Ollie O Rating: 4.0 stars Review Date: 10/25/2017
I regret to say that when I experience a surprise at a Latin American restaurant, it's often an unpleasant one, not the opposite. But my recent visit to Diggs was an unexpected pleasant surprise.
Diggs is a gastropub that's more a bar than it is a restaurant. But as is often the case in Buenos Aires, the food at these gastropubs is better than at most restaurants.Diggs is strategically located right on Plaza Serrano in Palermo Soho, joining a host of other bars and restaurants peddling beer and cheap food to a younger, less affluent crowd. But Diggs stands in a class by itself. It won't win any awards for fine dining and won't be featured in the restaurant design section of Architectural Digest. But it's a bit nicer than your typical bar. It has rooftop terraza covered in corrugated opaque Plexiglas allowing the sun in but keeping the rain out.There's a huge projection TV on the rooftop terrace making it a great venue for watching sporting events with other sports fans.The menu has ribs, burgers, and hot dogs mostly. But they do these three things just about as good as any restaurant in the city.The hot dogs utilize unusual gourmet sausages that they make themselves topped with equally unique homemade condiments, served on fresh, buns. I've recently had the Brat, a pork sausage topped with sauerkraut and the Black Beer, a scrumptious, smoky sausage, soaked in beer and topped with tangy, sweet relish of caramelized onions and thin slices of sweet pickle. My favorite is the Black Beer. For my money, the best hot dog, and best sausage for that matter, in Buenos Aires.The French fries are among the best we tasted in the city.I haven't yet had the burgers or ribs. But it won't be long. If they're anything as good as the hot dogs, they'll be topping the list in Bueno Aires.They have creative marketing. They recently began inviting in local chefs in Street Food Cookoff that features unique forms of street food, like an Asian inspired fish sausage, kimchi, and baos from Chef Maxi Van Oyen, at restaurant, Mil6.Diggs features real beer from artisanal brewer Patagonia. A limited but creative menu, well-executed with passion. And it shows. The prices are bit steep, but not unreasonably so in light of the quality of the ingredients and final product.


Click the restaurant name or image to read the review
No items found
Click the restaurant image to read the review
No items found