De Lucia Tapas Bar
San Telmo
Ambience

80%

Service

90%

Food

95%

Creativity

95%

Value

80%
Restaurant Details
De Lucia Tapas Bar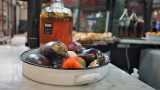 Locale: San Telmo
Address: Bolívar 970
Telephone: +54 11 4314-0133
Restaurant Type: Casual Dining
Cuisine: Spanish
Service Type: Counter Service
Price: $$$
Menu items offered: Crème brûlée, Seafood, Tapas - Finger Foods - Snacks
Hours:
Sun: 9:00 am - 8:00 pm, Mon: 10:30 am - 9:00 pm, Tue: 10:30 am - 9:00 pm, Wed: 10:30 am - 9:00 pm, Thu: 10:30 am - 9:00 pm, Fri: 10:30 am - 9:00 pm, Sat: 9:00 am - 10:00 pm

Review Summary
Ultra-casual ambiance sitting at one of two small bars overlooking the cooks constructing the tapas, De Lucia offers extraordinarily good tapas that venture outside of traditional Spanish cuisine in a very good way. Absolutely delicious. Always a good conversation with others sitting at the communal bar.

The full review for De Lucia Tapas Bar
Review by: Ollie O Rating: 4.4 stars Review Date: 11/04/2018
De Lucia promotes itself as a tapas bar. Located in Mercado San Telmo, this is just another pleasant surprise in long string of those I've been experience over the past month, while rediscovering San Telmo. Just a day earlier I had spent a few pleasant hours in the tapas bar in Sagardi, a few blocks away, one of our favorite restaurants in the city and had sampled their expansive array of tapas.
That was a pleasant experience. The tapas were good but not memorable by any means.
De Lucia is located in the Mercado SanTelmo, a small portal of shops and restaurants under a single roof, offering mostly artisanal crafts and antiques. In the center are some small vendors of food products. Bakers. Butchers. And several small kiosks posing as small restaurants, most having no more than ten or so seats available at a counter, behind which the cook or cooks prepare and serve the food.
We recently visited and reviewed a small kiosk serving choripans.
Immediately across a walkway from La Choripanería in the market is De Lucia.
They offer a variety of Spanish plates, but specialize in tapas, the smaller plates of food with three or four bites, that are popular accompaniments to beer and wine in bars throughout Spain.
There are six seats along one counter, and six along the other.
The options on the menu are diverse. But I opted for the platter of tapas, an assortment of five bruschetta-like tapas, each topped with some combination of unique ingredients.
The long paddle with the five tapas is what I'm describing, each sitting on a thing slice of a French baguette. One was thin slices of carrots in a sweet syrup, with small seeds sprinkled on top., the other xxx, a third was a sweet beet puree topped with anchovies, the fourth, a couple of slices of blood sausage drizzled with high-quality olive oil and herbs, and the fifth, a large slice of an Argentine chorizo sausage, topped with a traditional salsa criolla.
The assortment of five tapas was a bit expensive for what amounted to a large platter of appetizers. But, in this case, the higher cost was, in my opinion, warranted. These were exceedingly more interesting flavors than the tapas we had sampled the evening before at Sagardi.
These were delicious, as are the various other plates that were laid out. Mollejas, Papas Bravas, perfectly cooked sautéed shrimp, and meat balls.
Although the ambiance might be lacking, the counter seating is conducive to meeting new people. A great choice for tourists looking to share their experiences with one another. The service was top-notch, and friendly.
This is a restaurant where the book is better than the cover.