Dashi
Belgrano, Buenos Aires, Palermo Hollywood
Ambience

85%

Service

75%

Food

80%

Creativity

90%

Value

80%
Restaurant Details
Dashi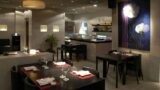 Locale: Belgrano, Buenos Aires, Palermo Hollywood
Address: Fitz Roy 1613
Telephone: +54 11 4776-3500
Restaurant Type: Casual Dining
Cuisine: Japanese
Service Type: Table Service
Price: $$$$
Menu items offered: Apple Pie, Ceviche - Aquachile, Desserts, Dumplings (Jiaozi - Gyozas), Fried Egg Rolls, Grilled Steaks, Molten Chocolate Lava Cake, Potstickers (Guotie), Salads, Seafood, Soups, Spring Rolls, Sushi
Hours:
Mon-Wed: 12:30 pm to 3 pm, 8pm to 12am, Thu-Sat: 12:30 pm to 3 pm, 8pm to 1am, Closed Sunday

Review Summary
Dashi offers an upscale mix of Japanese and Chinese cuisine, neither executed much better than average. Service follows suit.

The full review for Dashi
Review by: Ollie O Rating: 3.9 stars Review Date: 06/20/2015
Dashi is an upscale Asian food restaurant. Currently, there are three location in Buenos Aires. One Palermo Hollywood, recently remodeled and moved upstairs in the same location, one in China Town, and a larger and slightly more upscale location on Figueroa Alcorta. The Palermo Hollywood sibling, where I had lunch, albeit slightly more casual than the older sister, still has the same sophisticated, minimalist ambiance and décor. As does the China Town location.
On a recent visit we opted for the Pumpkin Soup and the Gyozas (pot stickers). The soup was delicious and the pot stickers good enough, but a bit boring. I would have preferred something with a little more heat. Perhaps a pork version on those dumplings, something a little juicier, would have been better received.For the main course my friends had the Yakimeshi (Japanese fried rice) with beef. It was tasty, but again, there was nothing especially unique about this particular dish. I opted for a 12-piece Sushi roll and Sashimi combo. The small slices of salmon Sashimi were not ultra-fresh which is, of course, essential for excellent sushi. This was, of course, less noticeable in the maki (rolls). The flavor and assortment of Sushi was good. Overall the main courses were acceptable but nothing that really distinguished this offering from something in an Asian take-out restaurant.We were doing the prix fixe menu (menu ejecutivo) so the portions were slightly smaller than the standard dishes from the a la carte menu, but the entire meal was priced much better as well.For dessert I elected to have the Apple Crumble (an apple pie accompanied by a small scoop of vanilla ice cream) and my friends opted for the Dulce de Leche mousse. Hardly your typical Japanese desserts. And they were nothing much more than you'd find in the local pastry shop. Neither one was remotely Asian.Service was good but not excellent. Overall in almost every category this restaurant was just slightly above average garnering an overall score of 3.8 on our rating scale. I hope to soon visit the more upscale location in Palacio Alcorta to see if food and service are more impressive there.


Click the restaurant name or image to read the review
No items found
Click the restaurant image to read the review
No items found