Cucina Paradiso
Belgrano, Buenos Aires, Palermo Hollywood
Ambience

85%

Service

85%

Food

90%

Creativity

90%

Value

85%
Restaurant Details
Restaurant Details
Cucina Paradiso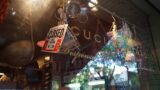 Locale: Belgrano, Buenos Aires, Palermo Hollywood
Address: Castañeda 1873
Telephone: +54 11 4780-2409
Restaurant Type: Casual Dining
Cuisine: Italian
Service Type: Table Service
Price: $$$$
Menu items offered: Breads and Pastries, Charcuterie, Coffee, Desserts, Espresso, Panna Cotta, Pasta, Rice - Risotto, Salads, Seafood, Tiramisu
Hours:
Mon-Thu: 8am to 12:30am, Fri: 8am to 1am, Sat: 8am to 12am, Sun: Closed

Review Summary
Casual Italian cuisine for trattoria lovers. Mostly pastas and risottos, well-executed in a pleasant atmosphere. About as authentic as you'll find in the Buenos Aires. Reasonably priced.

The full review for Cucina Paradiso
Review by: Ollie O Rating: 4.4 stars Review Date: 11/15/2017
Cucina Paradiso, now with a location in Belgrano to supplement the original restaurant in Palermo Hollywood, is celebrity chef Donato De Santis' take on a classic Italian trattoria. The Palermo Hollywood location is one small room, with a small kitchen at the back of the room, seating perhaps twenty-five diners in what can only be described as close quarters. No discrete conversations allowed in this restaurant. The Belgrano location is a bit more modern-day, slightly more contemporary in style, and much larger and less cramped, in terms of the proximity of the tables to one another.
Both locations feature a market that sells ingredients and tools required to produce Italian cuisine at home, and it's one the few places you can actually purchase imported semolina flour, rice and pasta. Naturally, if they sell the good stuff, they also use it in their restaurant kitchen.And herein lies the key to the success of Cucina Paradiso and it's better than respectable offering of Italian cuisine. Chef De Santis and his cooks use quality ingredients. The result, with a bit of elbow grease and technique in the kitchen, is some outstanding Italian food.Italian restaurants fall into about four classes in Buenos Aires, the good, the average, the bad and the ugly. We don't even waste our time issuing reviews for those last two groups. We leave that for consumer experts writing reviews on Yelp and Tripadvisor. The restaurants in the first group are ones that don't cut corners, use only the best ingredients, have the basic knowledge required to cook Italian cuisine (which is hardly demanding) and won't let something below standard leave the kitchen. We only know of two restaurants in Buenos Aires that we think fall into this category.Cucina Paradiso is one of those. (The other is L'Adesso) There's arguably now a third, CoRE, a fast-casual dining spot downtown (open weekdays only) offering authentic pasta dishes served up in paper bowls.When I review an Italian restaurant I typically order two basic dishes. A risotto, a dried pasta dish like a spaghetti Bolognese, and a fresh pasta dish, usually a ravioli, sorrentino or a tagliatelle.About 90% of the restaurants fail these simple tests. For the risotto, most use an inferior quality caranoli rice that is so bad it cannot produce an authentic, properly prepared risotto. Chef De Santis knows this, so he only uses imported caranoli in his risotto. He also only uses imported semolina in his fresh pastas. He trains his chefs in the relatively simple technique of cooking a risotto and fabricating, cooking, and properly draining pasta.We tried the grilled veggie antipasto plate. A bit dry, but acceptable. I hope to sample some more appetizers soon and will update this review.The mushroom risotto was one of only two properly prepared risottos I've had in Buenos Aires. Delicious. I've also had the Celentani al Torchio. I note that the pasta I was served was not a cellentani noodle (which is a twisted tubular pasta), but rather a twisted-ribbon pasta like a Fusilli Avellinesi or a Boccoli noodle, only longer. But who's noodle counting? Yum. Real porcini mushrooms!Those seeking to eliminate wheat gluten from their diet can request the dry, packaged variety, which is also egg free, and would therefore, be appropriate for vegans with a simple Pomodoro sauce.I, in fact, had the spaghetti absent wheat gluten with the Bolognese sauce. With that superior sauce, it's a better option than fresh pasta dishes at most restaurants in the city.The pesto sauce, which you could request on any of the fresh pastas, is sublime. I had it with the tagliatelle pasta. Excellent pasta! Excellent pesto!Simply stated, the pasta, risottos, antipasto and other Italian dishes served at Cucina Paradiso are well-executed and about as close to authentic as you can find in Buenos Aires. The service is much better than average. Although the two locations have very different personalities, both are clean and pleasant.Bottom line, for ultra-casual Italian cuisine, Cucina Paradiso is about as good as it gets in the big city.


Click the restaurant name or image to read the review
No items found
Click the restaurant image to read the review
No items found