Club Social
Barracas, San Telmo
Ambience

80%

Service

80%

Food

80%

Creativity

80%

Value

80%
Restaurant Details
Restaurant Details
Club Social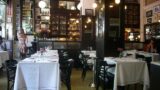 Locale: Barracas, San Telmo
Address: Avenida Caseros 438
Telephone: +54 911 4307-1919
Restaurant Type: Casual Dining
Cuisine: Eclectic
Service Type: Table Service
Price: $$$
Menu items offered: Braised Meat Dishes, Breads and Pastries, Carpaccios - Tartares, Coffee, Egg Breakfast Dishes, Espresso, Grilled Steaks, Hamburgers, Hot Wings, Ice Cream, Pasta, Pizza, Roasted Meat Dishes, Salads, Sandwiches, Seafood, Soups, Tapas - Finger Foods - Snacks
Hours:
Mon-Tue: 12am to 5pm, Wed: 6pm to 12am & Thu-Sat: 12am to 2am, Sun: 12pmto 6pm

Review Summary
Club Social bridges the gap between what "used to be" and what "is" in Buenos Aires. A pleasant ambiance, modern menu and consistent execution make Club Social worth a visit.

The full review for Club Social
Review by: Ollie O Rating: 4.0 stars Review Date: 11/13/2016
I know I talk a lot of trash about San Telmo. I think it's warranted and deserved. It's the most overhyped and overrated place in Buenos Aires. There is a single block on Caseras, between Defensa and Bolivar, where five or six of the nicest little restaurants and ice creams shops in the entire city are located. In our review of Hierbabuena we had commented about how pleasant the location was and how different this neighborhood was than the remainder of San Telmo. Well, after looking at the map today, I came to the realization that everything located on the south side of Caseras, is, in fact, in Barracas, not in San Telmo. Maybe that explains it.
But that's the end of the geography lesson for today. Club Social, located in that pleasant little neighborhood, bridges the gap between what "used to be" and what "is" in Buenos Aires. It has a touch of the feel of those traditional bodegones, but with a cleaner, more contemporary feel, and a well-executed modern menu with touches of traditional French cooking.We've only partaken of the more contemporary (non-French) items on the menu. The burger, a salad, the pork sandwich, and the Eggs Benedict. We have plans to have dinner and sample the French peasant dishes very soon.The burger was very good. Enough fat content in the beef to make it juicy. A big, fresh, poppy-seed bun. Fresh lettuce and tomatoes. Serves with crisp, hot French Fries.The Club Social Salad was also good. Nicely dressed with a tasty vinaigrette. Topped with crisp fried nuggets of cheese and salmon.The Pork BBQ sandwich was bathed in a delicious barbecue sauce, accompanied by French fries. A good enough sandwich to make out Top Picks list for sandwiches.On weekends, they have brunch with an assortment of egg dishes, including Eggs Benedict. You can read our review of our visit brunch at Club Social here.Service has always been stellar on every visit. It can get very busy mid-day on weekends so be prepared to wait for a table.Prices are about what you'd expect for this style of restaurant in a pleasant location like this one.Club Social remains one of the best casual dining options in Buenos Aires.


Click the restaurant name or image to read the review
No items found
Click the restaurant image to read the review
No items found