Ambience

70%

Service

70%

Food

70%

Creativity

70%

Value

50%
Restaurant Details
Restaurant Details
Café San Juan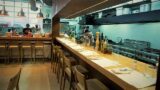 Locale: San Telmo
Address: Av. San Juan 432
Telephone: +54 11 4300-1112
Restaurant Type: Casual Dining
Cuisine: Italian
Service Type: Table Service
Price: $$$
Menu items offered: Braised Meat Dishes, Carpaccios - Tartares, Charcuterie, Chocolate Cake, Coffee, Desserts, Italian popular food dishes, Main Course Dishes, Pasta, Pizza, Roasted Meat Dishes, Seafood, Smoked Meat Dishes, Tapas - Finger Foods - Snacks, Tiramisu
Hours:
Tue-Sun: 12:30pm to 4pm, Tue-Sun: 12:30pm to 4pm, Mon: Closed

Review Summary
More hype than substance. Skateboarder turned cook gained notoriety on a local reality TV show. There are a few interesting and well-executed items on the menu, but a few total misses. Avoid the pasta at all costs.

Let's set the stage. Let's go back in time to 2011. Imagine an obscure little restaurant in the "counter-culture-if-we-knew-what-culture-was" little neighborhood of San Telmo. Back in 2011 there weren't many restaurants in San Telmo. What few there were, weren't much worth going to. Imagine seeing an ex-teenage skateboarder (who's not Tony Hawk) in the kitchen, cooking. In accordance with the skateboarder's creed, this kid's got more than a couple of tattoos so he fits in among the tattooed cooks of the modern culinary world.
He's cooking up something different than the two steaks and three pasta dishes that every other restaurant in the city is serving up. Along comes a television network and a mainstream female cooking personality. They want to watch him cook (and live) and film the whole thing in a reality TV show that bears the restaurant's name. Café San Juan. The guy gets famous. People know his name. It's Leando Cristóbal. The restaurant gets popular because he's famous. And they all live happily ever after.But no one really ever stopped and asked, "Was the guy any good on a skateboard?" or "Can the guy really cook?"So fast-forward a half a decade later and a remodel or two later at Café San Juan, and who do think walks through the front door of Café San Juan? It's Ollie O. Ollie O admits he's a lousy skateboarder and only knows slightly more about cooking than he knows about skateboards. But, Ollie O keeps telling us, that despite all his lack of knowledge about stuff like that, he still knows one thing … He knows what tastes good.So on a Saturday night in October, Ollie O meandered into the Café San Juan to see what all the chatter was about. Here's what Ollie O had to say:After a recent face-lift, Café San Juan, known among the informed as CSJ, is looking pretty sharp. It's covered up a few of those ugly old tattoos and had some new ones inked in. A fancy "vermutería" is added to the front of the shop with lots of Cinzano vermouth bottles lining the walls.There's a big open kitchen at the back of the restaurant with a counter overlooking the kitchen. It's lined with paper placemats and equipped with barstools. I volunteered to sit there, overlooking the kitchen. Allows me to do a little bit of extra research. The items on the menu in this place are expensive. I had to walk outside, take a look around at all the drunk teenagers and that sorry-ass restaurant down on the corner to make sure I was in San Telmo. At least 300 pesos for every entrée. Yikes. I got the cook's attention and asked for some guidance on the menu. I opted for an appetizer that was cured and smoked pork with some pickled veggies and flavored butter (I'm summarizing, of course). Out comes some nice little slices of ham and some pickled veggies that included celery, turnips, little beet stalks, and fennel. Those pickled veggies were DEELISHUSS. Just enough acid to wake you up. Just enough sweet to make them addictive. The compound butter and the fresh toasted bread were all the perfect little compliment to those tasty slices of ham. I couldn't really taste the smoke but I suspect that's how it was intended. Just enough to give it flavor but keep you guessing about what that flavor was. By George! Maybe this skateboarder really can cook.That cook on the line recommended a pasta dish for the main course. This is where I should have quit taking her advice. The dish had a long twisted pasta, a little thicker than fusilli. Sort of like a twisted fettuccini. I'm pretty sure it was fresh because I've never seen anything like this in dry form. In spite of the slightly odd process of cooking the pasta in the hot water in a big industrial deep fryer the pasta was cooked about right.But I regret to say that how the pasta was cooked was about the last thing that was right about this dish. I'm not really sure about the ingredients because they were all so overcooked that they had turned to mush. Even the beautiful little slices of asparagus had been pulverized and cooked until they were almost the consistency of baby food. There were lots of tiny little shrimp. The kind you can only buy frozen. And the whole thing was drenched in olive oil and then sprinkled with some type of ground red pepper. There was basically no sauce. Unless you'd call oil a sauce. And just in case you think I'm making this stuff up … I always have another critic along to cover my back side. It's my camera! You tell me. Doesn't that pasta dish look like a big pile of garbage with two basil leaves on top?The waitress was friendly. That line cook was helpful and courteous. But after finishing as much as I could eat (about half of the dish) that plate sat there for about 15 minutes without me lifting the fork and the waitress didn't inquire once as to whether I was finished.Within the past week at another restaurant I'd had a perfectly cooked pasta with a rich seafood stock-based sauce lightly clinging to the pasta, just as it should. That was lunch at Olivetti in the beautiful little neighborhood of Palermo Zoológico. And service was flawless at Olivetti. I received a delicious roasted tomato soup, the pasta dish I just described, a beverage and a coffee for 240 pesos. What did the Dr. Jekyll (appetizer) and Mr. Hyde (main course) dinner in slummy San Telmo cost me? 520 pesos. More than twice as much. Go figure!Sadly, this restaurant had potential at some point in time. It just got blinded by those bright lights that accompanied the camera crews.We regret to say that because of all the undeserved hype and our barely better than average rating we're adding one more restaurant to our list of overrated (and overhyped) restaurants in Buenos Aires.


Click the restaurant name or image to read the review
No items found
Click the restaurant image to read the review
No items found