Ambience

95%

Service

95%

Food

90%

Creativity

90%

Value

90%
Restaurant Details
Restaurant Details
Cafe Rivas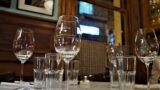 Locale: San Telmo
Address: Estados Unidos 302
Telephone: +54 11 4361-5539
Restaurant Type: Casual Dining
Cuisine: Argentine, Eclectic
Service Type: Table Service
Price: $$$
Menu items offered: Alfajores (cookies), Braised Meat Dishes, Breads and Pastries, Carrot Cake, Ceviche - Aquachile, Chocolate Cake, Coffee, Cookies, Croissants, Eggs Benedict, French toast, Profiteroles, Roasted Meat Dishes, Salads, Sandwiches, Seafood, Tapas - Finger Foods - Snacks, Veal cutlets - Milanesas, Wraps - Shawarma
Hours:
Tue-Thu: 9am - 1am, Sun: 11am - 8pm, Fri-Sat: 9am - 1:30am, Mon: Closed

Review Summary
This quaint and meticulously run little bistro in San Telmo is, for our money, the best casual dining experience in the city, whether for brunch, lunch or dinner. It's a first-class outing.

The full review for Cafe Rivas
Review by: Ollie O Rating: 4.6 stars Review Date: 08/19/2018
Café Rivas, like nearby Brasserie Petanque, is another gem that goes unnoticed in the online chatter and clearly deserves more praise than it receives. This little restaurant come in at #122 in Tripadvisor.com's ranking of all the restaurants in Buenos Aires. But for my money, this one of the top ten casual dining spots in the city.
Its San Telmo location may be a bit far away for locals living in Zone Norte, Belgrano or Palermo to give it serious consideration as a regular dining spot, but it's perfectly situated for tourists and gives locals living in San Telmo, Barracas and Retiro a great little bistro to frequent. One thing I love about this restaurant is its extended hours. It opens in the morning at 9 a.m. every Monday through Friday, serving an Argentine / French breakfast with breads, pastries and coffee, offers a condensed lunch menu with sandwiches and salads and little appetizers to pick at, then a short but creative menu in the evening, up until 1 a.m. The restaurant posts the closing time as 1:30 a.m. on Fridays and Saturdays. They open at 11 a.m. and close at 8 pm on Sundays. On both Saturday and Sunday, the menu during the day changes slightly to more of a brunch menu. They offer both scrambled eggs and Eggs Benedict, and small list of appetizers, salads and sandwiches. Basically, it's an abbreviated version of the lunch menu, with the addition of two egg dishes. I had the Eggs Benedict. The only complaint is that it would have benefitted from being served slightly warmer. Whether you're there morning, noon or night, the ambience is sophisticated, but at the same time comfortable. The décor is early 20th century Confitería, but unlike other Confiterías, that show a lack of maintenance, this little restaurant is pristine. The owner maintains the place better than I've seen anywhere in the city. It's immaculate and tastefully decorated. It doesn't have that high-energy buzz that Brasserie Petanque does. It's a bit more relaxing and subdued in personality. Everything is first-class. They have bartender in the evenings. They have limited availability distilled spirits, but what they do have, is top of the line. The best available brands of scotch and American whiskey, including the highly rated Tullamore Dew scotch whiskey and Bullitt American rye whiskey. I ordered a Boulevardier with Bullitt. Those exclusive labels are bit expensive though. The cocktail with the Bullitt rye was about US$8 (ARS$230), but a classic martini with the house gin was almost half that price. I note that there's an annoying trend to serve classic cocktails in the wrong glassware in this city. A mixology faux pas. But as you can see in the slider. A my martini was correctly served in a high-stemmed martini glass. I note that there's a nice little bar in front of the bartender accommodating about six patrons. Then there are about ten or so tables, including three upstairs accommodating another forty or so patrons. For dinner we had the Cornalitos, a close cousin, to smelts (silversides), sardines and anchovies. This a fairly common item in Argentina, prepared in a manner similar to the way fried calamari might be prepared, breaded and fried. This little appetizer was delicious and would be the perfect accompaniment to munch on with a cold beer. The two signature dishes on the menu are the ossobuco, braised in red wine and the spiced pork shoulder. The ossobuco was basically prepared similar to a Coq a vin or Boeufe Bourgigion, but was accompanied by the pumkin mash, supplement with small kernals of corn. The pork dish was accompanied by mashed potatoes. Both dishes were perfectly executed. The ossobuco was tender, falling off the bone. The tiny morsel of bone marrow I was able to extract from the bone was rich and buttery. The little bit of corn added to the sweet mash made an otherwise ordinary side dish something special. It looks a bit odd in the photo, but it was definitely a positive addition to the dish. Everything was seasoned perfectly, which is rare in Buenos Aires. No need for a salt or pepper shaker. The prices were better than reasonable with the main-course dishes on the menu ranging from about US$7 for a vegetarian dish to US$11 for the most expensive dish, the ossobuco. The waiters and waitresses are appropriately dressed in uniforms and aprons. I think the entire staff spoke English attended without flaw to every patron's need. The service easily exceeded what's typical in Buenos Aires. What can say that isn't positive about this extraordinary little restaurant? About all I can think of is that there's no outdoor seating. But in this little nook in San Telmo you likely wouldn't want to dine out on the sidewalk anyway. But the indoor experience is so positive you won't fee shortchanged. Those tending to prefer a more Bohemian or Hipster lifestyle might feel a bit intimidated by this very traditional ambience. But we don't fall into that group. For our money you won't find a better spot in San Telmo to relax or dine. It's also the perfect spot in San Telmo for brunch on Sundays before strolling down that feria of clothing, crafts and knick-knacks offered by the street vendors on Sundays along Avenida Defensa, just two blocks away. But be advised that on Sundays it reaches capacity at about 1 pm at which time there might be a minor wait for a table.