Café Blue's
Buenos Aires, Recoleta
Ambience

75%

Service

95%

Food

85%

Creativity

85%

Value

90%
Restaurant Details
Restaurant Details
Café Blue's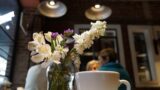 Locale: Buenos Aires, Recoleta
Address: Arenales 2932
Telephone: +54 11 2088-6497
Restaurant Type: Casual Dining
Cuisine: Eclectic
Service Type: Table Service, Take-out
Price: $$$
Menu items offered: Breads and Pastries, Brownies or Blondies, Charcuterie, Cheesecake, Coffee, Desserts, Egg Breakfast Dishes, Espresso, French toast, Hamburgers, Hot Dogs, Ice Cream, Lemon Pie, Salads, Sandwiches, Scrambled Eggs
Hours:
Tue-Sat: 7am to 11pm, Sun: Closed, Mon: Closed

Review Summary
Café Blue's has a well-executed, unique menu, excellent, friendly service, at rock-bottom prices. One of Ollie O's favorite casual-dining spots in Buenos Aires.

The full review for Café Blue's
Review by: Ollie O Rating: 4.3 stars Review Date: 11/02/2017
Café Blue's is the latest restaurant in Buenos Aires to join our list of hidden gems. You'll find next to nothing about this restaurant in the online chatter. You even have to zoom way in on Google Maps for this little secret to show up. Consumer's that have reviewed it on Google reviews (mostly locals posting Spanish reviews) rate it very highly. But local "insiders" that write for publications and blogs never mention in it in the list of restaurants to visit.
After sort of chancing into it, I've been back numerous times, somewhat amazed as to how every visit increases my level of confidence. Here's why Café Blue's (shown a Blue's Café on Google Maps) is so special.Café Blue's has a unique and contemporary menu by Buenos Aires standards. For breakfast, they offer a host of egg dishes and perhaps the best French toast we've tried in Buenos Aires. The French toast doesn't appear to be using an egg mixture for soaking the bread, but the sweet syrup the toast is drenched is perfect caramelized creating a great crunchy texture along the edge of the toast.For lunch and dinner, the emphasis is on sandwiches and a small variety of main course plates. My first sampling of the lunch menu was a Porteño favorite, a lomo sandwich, which is basically a sandwich featuring grilled slices of tenderloin beef. The Café Blue's version adds smoked gouda cheese and caramelized onions, with a grainy creole mustard on a fresh French baguette We liked it as much or better than the famous lomo sandwich from La Rambla, which made our list of Best Sandwiches in Buenos Aires this year.The vegetarian sandwich, featuring grilled veggies and hummus on a crispy baguette, is one of the best vegetarian sandwiches in the city.You can easily find a table at breakfast and the restaurant rarely reaches capacity at lunch except at the peak hour between about 2 pm and 3 pm. At dinner it remains full with 15 to 20 minute wait for a table from about 8 pm to 10:30 pm. But the wait is worth it. The service is this place is outstanding. Three waitresses were handling the entire place which probably seats about 75 patrons at capacity, including three or four tables out front on the sidewalk. And they didn't skip a beat, with the help of one of the best manager's I've ever seen in operation. This guy was moving quickly and efficiently to take up the slack wherever and whenever it was required. The service, although frantic, was as good as I've seen for packed restaurant. And the kitchen was equally impressive. Plates were coming out, well-executed, like clockwork. I go to hundreds of restaurants each year in Latin America. This was impressive.Pleasant décor, efficient and amiable service, even when running at capacity, and a contemporary and unique menu make Café Blue's one of the best casual dining spots, not only in this part of Recoleta, but in all of Buenos Aires.Oh. And did I fail to mention. The prices are the most reasonable of anywhere we've been in the city, despite the superior service and food. This is, quite simply, a great restaurant.


Click the restaurant name or image to read the review
No items found
Click the restaurant image to read the review
No items found