Cabaña Las Lilas
Puerto Madero
Ambience

90%

Service

90%

Food

95%

Creativity

80%

Value

50%
Restaurant Details
Restaurant Details
Cabaña Las Lilas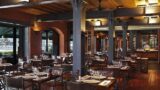 Locale: Puerto Madero
Address: Av Alicia Moreau de Justo 516
Telephone: +54 11 4313-1336
Restaurant Type: Steakhouse, Upscale Casual
Cuisine: Grilled Steaks
Service Type: Table Service
Price: $$$$$
Menu items offered:
Hours:
Sun-Sat: 12pm to 12am, ,

Review Summary
The gold standard for Argentine steakhouses. If money is no object, opt for the Wagyu. Otherwise look at more reasonably priced alternatives like nearby Le Grill.

The full review for Cabaña Las Lilas
Review by: Ollie O Rating: 3.6 stars Review Date: 12/01/2016
Cabaña Las Lilas has a place has a history. It's perhaps the world's most celebrated steakhouse, being mentioned in the same sentence with brethren like Morton's in Chicago, Fogo de Chão in Sao Paulo or Delmonico's in New York.
And I have to admit it. When I pucker up and splurge on a steak at Cabaña Las Lilas, sitting out on that terrace feels good. It's a very special feeling. A huge army of waiters and cooks scampering about to make your experience memorable. There's nothing left to chance from the little tags they stick in the steaks to the logo on the plates. It's very clear. You're dining at Cabaña Las Lilas.But at US$40 for a rib-eye steak that you can get at many high-quality steakhouses for under $15, is this dog and pony show really worth it? Thinking about ordering a Kobe steak? That will run you about US $120. All this in a city with some of the least expensive restaurants in Latin America. I'm just not sure it all adds up.Yes. The appetizer plate was unique and special. And the steak was cooked perfectly. But honestly I couldn't distinguish between the taste of this one and one I had tasted a few nights earlier at El Trapiche. And in my opinion it fell short of the luscious trendy steak I had at Ox in Santiago, Chile a few months ago. Great Caesar's Ghost ... they aren't even dry aged. If you're going to charge me this kind of price you could at least corn feed the cattle for a couple of weeks.I suppose if you're a tourist and want to experience the great Cabaña Las Lilas, you're entitled. But if you're just out looking for a great steak ... you can find one a block away for a third of the price at Le Grill. I'll meet you there and we'll have enough pesos left over for a Gran Marnier after dinner.As good of a restaurant as Cabaña Las Lilas is ... our overall rating takes value into account. And for that reason, there is no way the world this restaurant can win our Steakhouse face-off ... Not with a Value score of 3.


Click the restaurant name or image to read the review
No items found
Click the restaurant image to read the review
No items found