The Burgers at Pérez H - Buenos Aires
Buenos Aires, Palermo Hollywood
Ambience

70%

Service

80%

Food

85%

Creativity

85%

Value

85%
Restaurant Details
The Burgers at Pérez H - Buenos Aires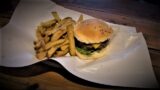 Locale: Buenos Aires, Palermo Hollywood
Address: Honduras 5509
Telephone: +54 11 4776 4278
Restaurant Type: Hamburger Restaurant
Cuisine: Burgers
Service Type: Table Service
Price: $
Menu items offered: Hamburgers
Hours:
Mon-Fri: 12pm to 7pm, Sun: 12pm to 8pm, Sat: Closed

Review Summary
Pérez-H is one of the many counter-service burger joints in Buenos Aires, now with locations downtown, in San Telmo, Palermo Hollywood and Quilmes. Open in Palermo Hollywood and Quilmes until 1 am Sun through Thursday,and until 3 am on Fri and Sat nights. Very juicy burgers with crisp, hot French fries at rock-bottom prices. Pérez-H is our most highly rated restaurant in the fast-casual category.

The full review for The Burgers at Pérez H - Buenos Aires
Review by: Ollie O Rating: 3.8 stars Review Date: 05/29/2015
So I'm walking up Honduras toward my apartment and see this new restaurant that I'd never seen before. Well it's not really a restaurant. It's one of those burger stands where you order and pay and then when they call your number you come pick up your burger. They have counters and stools but no waiters and waitresses. This is the same format as several of the other burger joints we've recently reviewed (Burger Mood, Burger Joint, El Barco Rojo and Dean & Denny are all this format).
Up until today our front runners in the Buenos Aires Burger Joint Face-off were Pony Line and El Barco Rojo, both of which have admirably delicious cheeseburgers. Well today we're adding another one to the list of front runners.It's Perez H in Palermo Hollywood. And now it's official. Perez H is the new King of the Burgers in Palermo, easily trumping competitor Burger Joint by leaps and bounds.Now I'm sure there will be those that say that Perez H is trying to copy Burger Joint ... and there might be some truth to that. But Perez H came out much higher in our rating than Burger Joint for several reasons.I've had to wait up to 20 minutes to get a burger at the burger joint and even when Perez H is at its peak at lunch time the maximum wait if probably 10 minutes. They have big squirt bottles of mayonnaise, mustard and ketchup on all the counters. Yes ... I know ... Burger Joint has that fancy spicy ketchup that tastes really good but on the last two trips the bottles of that stuff were nowhere to be found. I was doing good to scrape up some little packets of ketchup for my fries.The fries at Perez H are big slices of skin-on, natural, fresh cut potatoes. They were served up hot and steaming. I'd personally like them to ramp up the temperature on that fryer by a few degrees and get them a little bit crisper but even what I received was way better than the limp fries I was served on both of the latest visits to Burger Joint.Finally, and this is the most important, the meat patties at Perez H are thicker, better seasoned, and have more of the juicy stuff that makes a burger a burger. This meat compared favorably to the patty we were served at Pony Line, which is the best burger we've tasted to date. But unless you want don your "Sunday Go to Meeting" clothes to get past the bouncers at Pony Line and have 15 bucks to lay out for a burger, Perez H is going to be a better choice.The basic cheeseburger at Perez H is US$4 (ARS$50) and you get the fries for an extra 80 cents (ARS$10). Now that's a value.When it was all said and done and I'd finished the last bite of juicy, delicious burger I only had once complaint. This place has those same horrible paper tissue napkins as Burger Joint. What moron thought up a napkin that has zero absorbency? I'm not even going waste my time explaining how horribly deficient these things are since Ally Lazar has already expressed it much better than I couldI hope the owner, who obviously has gone to great lengths to create the city's top burger stand will soon have real napkins in the dispensers. In the meantime you might want to bring you own from home!So here's the final outcome.We note that Pérez H has locations downtown and in San Telmo. We assume that service and food would be similar in those locations but have yet to visit Pérez H in those barrios.


Click the restaurant name or image to read the review
No items found
Click the restaurant image to read the review
No items found