Brasserie Petanque
San Telmo
Ambience

90%

Service

85%

Food

90%

Creativity

95%

Value

90%
Restaurant Details
Restaurant Details
Brasserie Petanque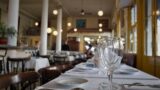 Locale: San Telmo
Address: Defensa 596
Telephone: +54 11 4342-7930
Restaurant Type: Casual Dining
Cuisine: French
Service Type:
Price: $$$
Menu items offered: Braised Meat Dishes, Breads and Pastries, Carpaccios - Tartares, Coffee, Crème brûlée, Crêpes, Grilled Steaks, Ice Cream, Molten Chocolate Lava Cake, Oysters (on the half-shell), Paté, Profiteroles, Quiche, Roasted Meat Dishes, Salads, Seafood, Soups
Hours:
Tue-Sun: 12:30pm - 3:30 pm, 8pm - 12am, Mon: Closed,

Review Summary
Brasserie Petanque hits the nail on the head, bringing real French culinary classics to Buenos Aires in a high-energy atmosphere that makes it all the more special. Kudos to the guy in the Napolean disguise for this "trimophe".

Brasserie Petanque, in San Telmo, has done a better-than-acceptable job of creating a true brasserie in Buenos Aires. White tablecloths, tableware and porcelain, napkins and wine glasses, all fit the description of what you'd expect in a French brasserie. And the menu is classic brasserie with a few bistro dishes thrown in to cover all bases.
Oh là là! I love this menu. And can't wait to try everything on it. It's like a French cuisine encyclopedia. It's got about every classic French dish you could come up with. The appetizer section of the menu includes classic French onion soup, escargots, paté, a terrine and a tartare. Then there's the "classics" section of the menu that includes Coq au vin, Boeuf Bourguignon, a cassoulet and Duck Confit. There about ten main-course dishes that are died-in-the-wool French as well. Chicken Cordon-Bleu, a rib-eye steak with a classic Café de Paris butter-sauce, and, of course, a Steak Frites with a classic Béarnaise sauce, for all the die-hard Porteños that only eat steaks. The prices, considering the ambiance and level of execution and service, are better than reasonable, with most of the menu being priced below US$15 (ARS$400). But having a classic French menu, doesn't mean you know how to prepare the dishes on that menu. How would Brasserie Petanque rate in that challenge? For a starter, I order the French onion soup. It was good. Unfortunately, the soup, crowned with a toasted crouton and melted cheese, suffered because of the limitations posed by using local products. Argentine cheeses are notoriously inferior to imported cheeses. I'd have gladly paid an extra 20% to have had a real imported Gruyere cheese, which is exactly what this dish needed. But still, it's about as good as you can get for onion soup in Buenos Aires. I had the Boeuf Bourguignon for my main course. Let's start with what was right. The sauce was spot-on. Many times, the sauce in a Boeuf Bourguignon can be over-reduced making it too thick, like syrup. But in execution of this dish, the flavor and the thickness were exactly the way I like it. Also, cooks often miss the mark on this dish by overcooking the vegetables, adding them to the stew too soon during the cooking process. In this dish, the vegetables were all cooked perfectly. Now for the slight disappointment. The beef was slightly overcooked rendering about half of the pieces in the dish a bit dry. Luckily, I was able to counter this deficiency by getting plenty of that sauce in each bite. I note that the pieces that were adjoining a bit of fatty tissue were much better, countering the overcooking. In my opinion, this dish would benefit from slightly less cooking time and a fatter cut of beef. That said, it is still the best rendition of the classic French dish you can find in Buenos Aires. For dessert, I opted for something I haven't seen on any menu in the city. A classic Crêpes Suzette, the classic French dessert crêpe, flambéed at the table with an orange-flavored liqueur. The presentation may not have been as showy and dramatic as you'd see at a restaurant in Paris, but the execution of the dish was spot-on. It was a real treat to see this dessert served in Buenos Aires! And to their credit, they used the real McCoy, Grand Marnier, for the flaming liqueur. The restaurant was at capacity by the time I was being served my main course. In this busy restaurant, the waiters and waitresses were having a little difficulty keeping up with it all. But the dishes were served expediently and there were only occasional lags in service. And even with the lapses in service it was still superior to what you'd find in most restaurants in the city. If you were in Paris, you wouldn't think this restaurant was even remotely unique or creative. In Buenos Aires, there's really nothing that equals it. That uniqueness makes it creative. I've challenged myself to return to this restaurant weekly until I've tried all of the more classic items on the menu. And if you're a resident of the city, living anywhere in the city or the Province, you should put this restaurant on your dining-out schedule as well. We'll update the post with each visit, adding new photos to the slideshow. So, keep coming back to see what we've added.