Ambience

80%

Service

80%

Food

85%

Creativity

85%

Value

85%
Restaurant Details
Restaurant Details
Brasero Atlantico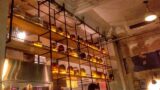 Locale: Retiro
Address: Arroyo 872
Telephone: +54 11 4313-6093
Restaurant Type: Fast Casual
Cuisine: Grilled Steaks
Service Type: Table Service
Price: $$$
Menu items offered: Braised Meat Dishes, Desserts, Grilled Steaks, Paté, Roasted Meat Dishes, Salads
Hours:
Sun: Closed, Mon-Fri: 12am to 4pm & 7pm to 1am, Sat: 1pm to 5pm & 7pm to 1am

Review Summary
Trendy décor with bar-seating only. No tables. Open kitchen where the parilleros do their thing is right behind the largest counter-height table. Read the review for wine tips.

The full review for Brasero Atlantico
Review by: Ollie O Rating: 3.9 stars Review Date: 03/12/2018
Situated less than a block from my apartment in Buenos Aires between 2014 and 2017, I've probably had dinner at this small little parilla on two dozen occasions during the preceding year. It is operated by the owners of the highly successful gastropub, Florería Atlántico, located next door.
There are no tables. Just a long bar with stools seating approximately 15 patrons and a bar with stools facing the front window of the restaurant, seating another ten or so customers. The menu is ultra-simple. They usually have two or three beef cuts, chicken and pork, grilled on the parilla, potatoes, squash, leeks and cabbage, grilled on the parilla, and chorizo sausage, paté, sweetbreads, and grilled provoleta cheese for appetizers.It's a scaled down version of a typical Argentine steakhouse, with a trendy, loft-style décor, and close interaction with the waiters and cooks, who are encouraged to interact with the staff. Being located within about 100 yards of the Sofitel Hotel, the restaurant is usually half-occupied by travelers staying at the hotel.Service has always been good during my many visits, although I have a friend who complained that he was ignored on a visit to the restaurant. I've never witnessed any significant lapses in service like that in any of my visits. I think perhaps his misfortune was an unusual occurrence.Execution is usually good, although I've had a slightly overcooked steak on a couple of occasions. I find the limited menu be a bit on the boring side and everything is very "Argentine" … perhaps a bit too "Argentine". That said, execution and service, in a very comfortable and informal setting, make Brassería Atlantico one of my favorite dining spots in Buenos Aires.Prices are reasonable. Sometime credit cards are accepted. Other times they are not. Take some local bills to be safe.Tip: Go next door to the flower shop that doubles as a wine store (and a speakeasy style front for the bar in the basement) and purchase a bottle of wine which you can take to the restaurant next door to be uncorked. It will save you a few pesos and allow you a wider, and very impressive, assortment of wines. Our recommendation to accompany the beef dishes is the highly regarded Clos de los Siete Red Blend 2013 (a Michel Rolland wine, available for 245 pesos) or the SonVida Cabernet Sauvignon. The 2010 vintage they sell was a bit heavy on tannins when bottled, but some six years later it has peaked. It's a great wine at a fantastic price (about 360 pesos).


Click the restaurant name or image to read the review
No items found
Click the restaurant image to read the review
No items found