Brandon
Palermo Hollywood
Ambience

80%

Service

80%

Food

90%

Creativity

80%

Value

70%
Restaurant Details
Brandon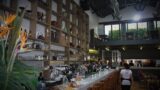 Locale: Palermo Hollywood
Address: Fitz Roy 2722
Telephone: +54 11 4776-2014
Restaurant Type: Casual Dining
Cuisine: Eclectic
Service Type: Table Service
Price: $$$$
Menu items offered:
Hours:
Mon-Fri: 11:30am to 8pm, Sat-Sun: 11:30am to 6pm,

Review Summary
Brandon has a nice contemporary decor, a young well-trained staff and a short but well executed menu. But prices are bit steep, even for Palermo Hollywood

The full review for Brandon
Review by: Ollie O Rating: 4.0 stars Review Date: 05/14/2015
First Looks: Brandon – Modern Bistro from owner of Miranda a few blocks away.
The owner of the popular "modern-style" steakhouse, Miranda, located just a few blocks away, decided to bring a similar modern styling to his latest venture in Palermo Hollywood, Brandon. I was Johnny on the spot, checking-out the place within a week of its opening. Here's what I saw on the First Look.High vaulted ceilings give a great open feeling to this restaurant. There is seating downstairs for about 50 diners, another 20 or so in the balcony dining area upstairs and a few more outside on the outdoor terraza adjoining the upstairs dining area.The space is designed with a modern loft-style décor. There's a white painted brick wall along the right side of the dining room with three extremely large mirrors being the only wall decoration on that wall. There is a large bar running the length of the left wall with about 20 to 25 stools for sitting at the bar and a large open kitchen at the rear of the dining room where a small brigade of cooks are constantly occupied.The menu is brief, as is typical for modern day bistros. Only do a few good items, and do them all well. Brandon is open for breakfast, lunch, afternoon snacks and dinner, every day of the week. The music? Jazz. Bellowing out from the Bose sound system suspended from the ceiling. Everything is clean and in its place.As is the practice at Miranda, the owner has hired a staff of young waiters, probably averaging 25 years of age. Each is dressed in a white shirt and black apron. I've complained about young waiters at many restaurants spending more time swiping away on their iPhones than attending to the needs of customers. Not at Brandon. The waiters and waitresses are attentively standing, watching their tables to assure that every patron's need is quickly satisfied. Working as a team when required to make sure that service is maintained at a high level.Let's get one thing straight. This place is expensive. Menu items are priced as high as the most expensive restaurants in the city. Eating dinner at this casual bistro will cost you as much or more than dinner at Sucre, arguably the city's finest restaurant. Appetizers are priced in a range from US$8 to $11 (ARS$100 to $135) and the main course dishes average about US$18.50 (ARS$230).Patrons are served fresh, warm bread, along with what I think was a chickpea puree. The spread was a bit on the bland side and this was not the tastiest collection of breadstuffs I've seen in BA. But it was certainly better than the stale basket of bread that is customarily put on the table in local restaurants.I elected to have the Kefta appetizer. Four small seasoned portions of ground lamb on skewers served, grilled and served with a small ramekin of Greek tzatziki (Turkish cacik). They were good but the meat was just a little on the lean side. And at US$10.50 (ARS$130) it would have been more appropriate to put about eight of them on the plate. An extremely expensive appetizer for what was served.For the main course I ordered the bone-in rib steak, "jugoso" (medium-rare). And that's exactly how it was cooked. Perfectly medium-rare. It was a very flavorful and tender cut of meat. High-quality. The side dish was a smoked-roasted-potato. And a small little bit of a roasted tomato was served as a garnish.The ambiance, service and execution of the meal were all first rate. Unfortunately, as a result of the high cost of the food the value rating will result in an overall score that is below many others in the neighborhood, despite the otherwise high marks.The truth of the matter is that paying US$40 or so per person for a meal, although expensive by Buenos Aires standards, will seem like a bargain to most foreigners and will not even be a second thought for the more affluent residents of the city. So for those that give little weight to our value rating Brandon will be an excellent choice for dinner out with family or friends.


Click the restaurant name or image to read the review
No items found
Click the restaurant image to read the review
No items found