Birkin - Buenos Aires
Buenos Aires, Palermo, Palermo Hollywood
Ambience

80%

Service

75%

Food

75%

Creativity

85%

Value

80%
Restaurant Details
Restaurant Details
Birkin - Buenos Aires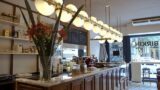 Locale: Buenos Aires, Palermo, Palermo Hollywood
Address: República Árabe Siria 3061
Telephone: +54 11 4843 7470
Restaurant Type: Cafe
Cuisine: Coffee - Bread - Pastries
Service Type: Table Service
Price: $$$
Menu items offered: Breads and Pastries, Coffee, Croissants, Desserts, Egg Breakfast Dishes, Espresso, French Omelettes, Pancakes - Griddlecakes, Salads, Sandwiches, Scrambled Eggs
Hours:
Tue-Fri: 9am to 9pm, Sat-Su: 10am to 9pm,

Review Summary
This is a good place for breakfast. Eggs. Waffles. It's in a nice neighborhood. Weather permitting, I prefer to sit on the sidewalk out front. A top spot for breakfast but has good sandwiches too.

The full review for Birkin - Buenos Aires
Review by: Ollie O Rating: 3.9 stars Review Date: 09/28/2016
I'd been to Birkin for a cup of coffee and a piece of carrot cake a couple of months back and both were quite good. They have a host of breakfast dishes so we thought we would try breakfast at Birkin on a Tuesday morning.
Now the menu is not all that unique. It does have eggs but nothing elaborate like Eggs Benedict or a Croque Madame. But the scrambled eggs we were served were cooked perfectly. The accompanying toast was sliced off a French baguette. We'd have liked to have seen some creamy butter to spread on that toast. (When are Latinos going to learn that everything's better with butter?) But that's a common shortcoming almost everywhere. They likely would have brought me some butter had I asked. No salt or pepper on the table, but it was there in a flash once I asked for it.Service is just a bit slow in this place. One of those places where if you don't wave at the waitress to get her attention she won't come over. Welcome to Argentina.Prices were about as expected. Not a bargain. But nothing worth complaining about. The coffee is good at Birkin. I'm not sure what beans they're using but the coffee is always high-quality and tasty. If you order a cappuccino or a latte you get some pretty fancy foam art on top.Summing it up, this is a good place for breakfast. I love the neighborhood. Weather permitting, I prefer to sit on the sidewalk out front. Good coffee. A good plate of scrambled eggs. The breads and confections are good too.


Click the restaurant name or image to read the review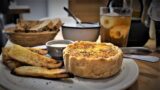 Le Moulin de la Fleur – Buenos Aires
Neighborhoods: Recoleta
Service options: Table Service, Take-out
Cuisine(s): Coffee - Bread - Pastries, French
Rating: 4.4 stars Cost: $$ . Price: Cafe, Casual Dining
---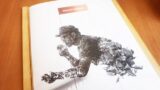 Bogotá – Buenos Aires
Neighborhoods: Buenos Aires, Recoleta
Service options: Table Service
Cuisine(s): Coffee - Bread - Pastries
Rating: 4.0 stars Cost: $$$ . Price: Cafe
---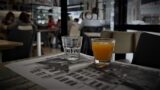 Chef Leon – Buenos Aires
Neighborhoods: Belgrano, Las Cañitas, Palermo
Service options: Table Service, Take-out
Cuisine(s): Coffee - Bread - Pastries
Rating: 4.0 stars Cost: $$$ . Price: Cafe, Casual Dining
---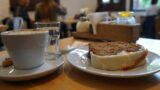 Crisol – Buenos Aires
Neighborhoods: Buenos Aires, Las Cañitas, Palermo, Palermo Hollywood
Service options: Table Service, Take-out
Cuisine(s): Coffee - Bread - Pastries, Salads, Sandwiches
Rating: 3.9 stars Cost: $$$ . Price: Cafe, Casual Dining
---
Le Pain Quotidien – Buenos Aires
Neighborhoods: Belgrano, Buenos Aires, Martínez, Nordelta, Olivos, Palermo, Palermo Soho, Puerto Madero, Recoleta, Retiro, Tortugas
Service options: Table Service, Take-out
Cuisine(s): Coffee - Bread - Pastries, French
Rating: 4.4 stars Cost: $$$ . Price: Cafe, Casual Dining
---
Click the restaurant image to read the review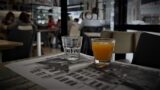 Chef Leon – Buenos Aires
Neighborhoods: Belgrano, Las Cañitas, Palermo
Service options: Table Service, Take-out
Cuisine(s): Coffee - Bread - Pastries
Rating: 4.0 stars Cost: $$$ . Price: Cafe, Casual Dining
---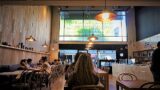 Ninina – Buenos Aires
Neighborhoods: Buenos Aires, Palermo Soho
Service options: Table Service, Take-out
Cuisine(s): Coffee - Bread - Pastries, Eclectic
Rating: 4.1 stars Cost: $$$ . Price: Cafe, Casual Dining
---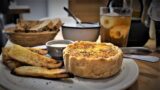 Le Moulin de la Fleur – Buenos Aires
Neighborhoods: Recoleta
Service options: Table Service, Take-out
Cuisine(s): Coffee - Bread - Pastries, French
Rating: 4.4 stars Cost: $$ . Price: Cafe, Casual Dining
---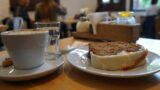 Crisol – Buenos Aires
Neighborhoods: Buenos Aires, Las Cañitas, Palermo, Palermo Hollywood
Service options: Table Service, Take-out
Cuisine(s): Coffee - Bread - Pastries, Salads, Sandwiches
Rating: 3.9 stars Cost: $$$ . Price: Cafe, Casual Dining
---
Le Pain Quotidien – Buenos Aires
Neighborhoods: Belgrano, Buenos Aires, Martínez, Nordelta, Olivos, Palermo, Palermo Soho, Puerto Madero, Recoleta, Retiro, Tortugas
Service options: Table Service, Take-out
Cuisine(s): Coffee - Bread - Pastries, French
Rating: 4.4 stars Cost: $$$ . Price: Cafe, Casual Dining
---