The best restaurants in
San Telmo
Filterable by location, cuisine and price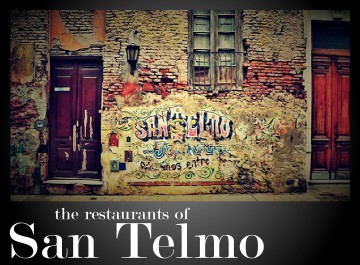 If you read the tourist propaganda about San Telmo, you'll be led to believe it's a haven for cute little antique shops lining shady cobblestone lanes. There are some things worth seeing in this slightly over-hyped barrio, but don't be misled. Although the neighborhood has a rich heritage, that heritage has neglected and allowed to fall into disrepair.
But we've recently reevaluated San Telmo and with the opening of a few new restaurants and the discovery of a few that went unnoticed because they aren't part of the tourist chatter online, we're favorably rewriting some of our content.
Fact is, San Telmo is now home to some of our favorite restaurants. The most authentic Mexican food in city, a flashy new trendy cocktail bar, the loveliest little café cum restaurant in city and the best brasserie for French cuisine are all located in San Telmo, along with a few new discoveries you won't likely find in other sources.
These are the best restaurants in San Telmo.