Basa
Buenos Aires, Retiro
Ambience

95%

Service

75%

Food

90%

Creativity

90%

Value

70%
Restaurant Details
Restaurant Details
Basa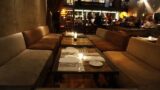 Locale: Buenos Aires, Retiro
Address: Basavilbaso 1328
Telephone: +54 11 4893-9444
Restaurant Type: Gastropub, Upscale Casual
Cuisine: Argentine, Eclectic
Service Type: Table Service
Price: $$$$
Menu items offered: Braised Meat Dishes, Ceviche - Aquachile, Coffee, Desserts, Espresso, Grilled Steaks, Pasta, Rice - Risotto, Roasted Meat Dishes, Salads, Seafood, Tapas - Finger Foods - Snacks
Hours:
Mon-Sun: 12pm to 3:30pm & 6:30pm to 12am, ,

Review Summary
Sleek. Trendy. Upscale. Uptempo. Restaurant. Bar. Take your pick. Great food. Unique menu. A bit loud. If you're looking for a traditional restaurant try one of many in La Recova four blocks away.

The full review for Basa
Review by: Ollie O Rating: 4.1 stars Review Date: 09/28/2016
We've been to Basa for cocktails on several occasions. Part bar, part restaurant. It falls into our gastro-pub category. We've praised the food at one of the city's most popular bars, Florería Atlantico, just a few blocks from Basa. And we've also had good things to say about nearby Shout. Basa has a different personality than either of these nearby gastro-bars. It's sleeker and sexier. A very stark and industrial ambiance.
You enter at street level on a balcony with a handful of tables overlooking the large subterranean restaurant and bar below. Down the staircase into the buzz. Late in the evening the restaurant and bar are usually at capacity so there's always a quiet roar in the room. Plus, soft electronic-jazz and electronic-dance-music keep the vibe high.Classy and sleek enough to be frequented by those used to posh surroundings. Edgy enough to be frequented by young hipsters with tattoos and piercings.But enough about the vibe. I was dining alone on this evening so I decided to sit at the bar. I ordered a glass of Malbec. They gig you a bit when you order by the glass. 115 pesos. Ouch.Perusing the appetizers, I had to ask what "caracú" was. Turns out it's bone marrow. In most of Latin America it's known as "tuétano". But almost anywhere you try it, it's delicious. Bone marrow is not all that common in the USA. But when you do find it there or in Europe it's a delicacy. Usually one of the most expensive things on the menu. Oddly enough in Argentina this stuff is as common as an alfajor. It was the least expensive appetizer and I was pretty sure it was going to be the most delicious. Easy decision on the appetizer.I was right. Three huge pieces of bone full of creamy marrow. Two pieces of crusty toasted bread. Other than the tiny spoon for scooping that good stuff out onto the bread, that was about all that was required to make this a successful appetizer. Just in case you wanted to mix it up a bit, it was served with a salsa made of pureed capers. As good as the marrow was without the sauce, it was even better with a dab of that sauce placed on top.For the main course I ordered the braised veal. Not sure whether this was the shank or the shoulder, but it was perfectly cooked. Braised in Malbec wine for what I presume was 8 to 10 hours. Perfectly fork tender. It was glazed with a Malbec reduction and sitting on a truffle flavored potato puree.The dish included a choice of one of about fifteen side dishes including glazed carrots, grilled asparagus and sautéed broccoli. That may not sound all that unique if your visiting from North America or Europe. But, believe me, that's a pretty rare collection of side dishes to see on a Buenos Aires menu. I ordered the spätzle gratin with wild mushrooms, even more rare than carrots and broccoli.So now we have another place that can't decide if it's a bar or a restaurant. Doesn't matter. It does them both quite well. The cocktails are as good as the food.Prices were a bit higher than what you'd typically see in Buenos Aires but considering the location and the trendy personality of this place I don't think the prices were really out of line.The only downside was that sitting at the bar, service was a bit sketchy. The bartenders were taking care of the customers at the bar and mixing cocktails for the entire restaurant. They were a bit slow to pick up the plates once I'd finished a course. But I doubt if that would be an issue at a table. The only other downside is that about half of the seating is either at bar-height or sitting in comfy sofas with dinner served at a cocktail table, seat-height. That can make it a bit awkward eating dinner. A minor drawback that won't be a concern to most diners.Now let's make it clear. It's a trendy bar. It's loud. It's great for people watching. But if you're looking for a more traditional dining experience, one of these restaurants in the gastro-pub genre might not be the ticket.But we think the buzz and the noise make the place more interesting. We'll be back. Ninina Bakery


Click the restaurant name or image to read the review
No items found
Click the restaurant image to read the review
No items found