Bacán
Barracas, San Telmo
Ambience

85%

Service

90%

Food

90%

Creativity

90%

Value

95%
Restaurant Details
Restaurant Details
Bacán
Locale: Barracas, San Telmo
Address: Av. Caseros 499
Telephone: +54 11 4307-5908
Restaurant Type: Casual Dining
Cuisine: Eclectic Gourmet
Service Type: Table Service
Price: $$$
Menu items offered: Braised Meat Dishes, Charcuterie, Coffee, Grilled Steaks, Pasta, Roasted Meat Dishes, Salads, Seafood, Soups
Hours:
Mon-Thu: 8am - 12am, Fri-Sun: 9am - 12am,

Review Summary
Bacán has a bright and airy décor by day, a comfy, romantic ambiance by night, with an expertly executed menu that elevates the cuisine to gourmet status, despite the humble atmosphere. Reasonable prices are the icing on the cake.

The full review for Bacán
Review by: Ollie O Rating: 4.5 stars Review Date: 10/05/2018
Bacán is but another in a string of restaurants located in what is, perhaps, the single most gastronomically desirable city block in the city of Buenos Aires. There are about six top-notch casual dining spots, a splendid ice cream shop and a popular brewpub, serving a host of artisanal beers, all located in one short block running along the border between barrios San Telmo and Barracas. Bacán was, perhaps, the biggest surprise of all these restaurants. It previously had a rather mundane décor that shouted "I'm just another boring corner cafe." That, and the fact that the restaurant has avoided being mentioned much in online culinary chatter, had kept this restaurant on our back burner of potential review candidates. Friends were in town from out of the country and we were looking for a restaurant that I hadn't yet visited that offered a reasonably priced menu and was open on a holiday when many restaurants were closed. This one was the prime candidate. The restaurant has recently done some minor updating, but what was done was sufficient to give it a modern and new feel. There are exposed brick walls, pleasant, neutral colors, lots of mirrors, and checkered, black and white marble floors. The restaurant had a comfortable, bistro personality. Most the waiters appeared to be older than 25 years of age. Something we can't say about the majority of the casual dining spots in Buenos Aires. Most of the waiters and waitresses at Bacán have likely worked as waiters before this gig. They were attentive but not too attentive. Informative and friendly. The service wasn't flawless, but it was superior to what you'd expect from a similar restaurant elsewhere in the city. The menu takes relatively common Argentine ingredients and utilizes them in dishes that are elevated to gourmet status by the use of some simple but effective culinary techniques, and the addition of some uncommon elements, like the romanesco sauce on which the ribeye was served. We ordered a variety of appetizers. Octopus can be chewy if not prepared correctly. This octupus had been slowly cooked, then seared to create an interesting texture. The delicate little new potatoes, covered in a spicy oil were delicious, perfectly countered by a creamy aioli sitting at the base of the dish. The sweetbreads were delicate and creamy. Spicy seasoning offset that creamy texture. One of the best renditions of sweetbreads I've tasted in Buenos Aires. The provoleta cheese (Argentina's unique take on Italian Provolone cheese), oozing over the top of the ceramic covered cast-iron skillet it was served in, was much better than the typical rendition of the dish. At many restaurants, including some of the most expensive steakhouses in the city, the cheese is, more often than not, stringy and chewy. That's why I rarely order it, even though I am a confirmed cheese-lover. But this cheese was creamier and less chewy than usual. A delight. And it was wonderfully seasoned. We ordered three very different main-course dishes, the sorrentinos pasta dish, the grilled ribeye and the catch of the day. The fish dish was encrusted with a mixture of olives and herbs, sitting on a soft bed of quinoa. The skin of the fish had been seared to a crisp, pleasant texture. The flaky white meat of the fish was moist and perfectly cooked. I think the dish would have benefited from a sauce, but it was still a delight as served. The sorrentinos, with a braised ossobuco filling, were excellent. The meat, although tender, still had a bit of a bite and some texture, and that rich filling in the pasta, was perfectly offset with a creamy sauce supplemented with a tapenade of olives. The ribeye was an interesting cut. A ribeye is typically cut to a depth of about 2 to 3 cm (1 inch). But this ribeye was a cut thick to about 5 cm (about 2 inches). The result was a well seared steak with soft hot pink center. The steak was ordered between medium ("a punto") and medium-rare ("jugosa"). The steak delivered was, perhaps, a bit rarer than requested, but that would almost be a necessity on such a thick steak. The quality of the meat was better than what I anticipated for the price, which was much less than at most steakhouses in the city serving a steak of similar quality. It was served on a delicious, creamy romanesco sauce. Something that's not a customary offering in Buenos Aires. We shared a single dessert. A coconut custard (flan). An excellent version of the dish, beautifully plated, and crowned with a crisp, showy bit of brittle sugar. Bacán offers a comfortable and pleasant ambiance, friendly and efficient service, and excellent gourmet execution of an otherwise very traditional menu. And all at better than reasonable prices. Across the board, Bacán gets high marks. This was reminiscent of the pleasant "no-frills" gourmet experience at Lincoln Kitchen and 13 Fronteras. And this good showing will easily be enough to put Bacán among the top 15 casual dining restaurants in Buenos Aires.


Click the restaurant name or image to read the review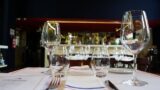 Aldo's – Buenos Aires
Neighborhoods: Palermo, San Telmo
Service options: Table Service
Cuisine(s): Eclectic Gourmet
Rating: 4.5 stars Cost: $$$ . Price: Upscale Casual
---
Vico Wine Bar – Buenos Aires
Neighborhoods: Palermo Soho
Service options: Table Service
Cuisine(s): Eclectic Gourmet
Rating: 4.6 stars Cost: $$$$ . Price: Casual Dining
---
13 Fronteras – Buenos Aires
Neighborhoods: San Telmo
Service options: Table Service
Cuisine(s): Eclectic Gourmet
Rating: 4.5 stars Cost: $$$ . Price: Casual Dining
---
Proper – Buenos Aires
Neighborhoods: Palermo
Service options: Table Service
Cuisine(s): Eclectic
Rating: 3.8 stars Cost: $$$ . Price: Casual Dining
---
La Panadería de Pablo – Buenos Aires
Neighborhoods: Olivos
Service options: Table Service
Cuisine(s): Eclectic
Rating: 4.4 stars Cost: $$$ . Price: Casual Dining
---
Click the restaurant image to read the review
La Panadería de Pablo – Buenos Aires
Neighborhoods: Olivos
Service options: Table Service
Cuisine(s): Eclectic
Rating: 4.4 stars Cost: $$$ . Price: Casual Dining
---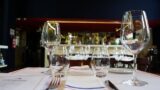 Aldo's – Buenos Aires
Neighborhoods: Palermo, San Telmo
Service options: Table Service
Cuisine(s): Eclectic Gourmet
Rating: 4.5 stars Cost: $$$ . Price: Upscale Casual
---
Proper – Buenos Aires
Neighborhoods: Palermo
Service options: Table Service
Cuisine(s): Eclectic
Rating: 3.8 stars Cost: $$$ . Price: Casual Dining
---
Vico Wine Bar – Buenos Aires
Neighborhoods: Palermo Soho
Service options: Table Service
Cuisine(s): Eclectic Gourmet
Rating: 4.6 stars Cost: $$$$ . Price: Casual Dining
---
13 Fronteras – Buenos Aires
Neighborhoods: San Telmo
Service options: Table Service
Cuisine(s): Eclectic Gourmet
Rating: 4.5 stars Cost: $$$ . Price: Casual Dining
---