Aramburu
Buenos Aires, San Cristóbal
Ambience

85%

Service

90%

Food

95%

Creativity

95%

Value

85%

Logistics

90%
Restaurant Details
Restaurant Details
Aramburu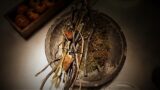 Locale: Buenos Aires, San Cristóbal
Address: Salta 1050
Telephone: +54 11 4305-0439
Restaurant Type: Upscale Casual
Cuisine: Eclectic Gourmet
Service Type: Table Service
Price: $$$$$
Menu items offered: Braised Meat Dishes, Breads and Pastries, Desserts, Dumplings (Jiaozi - Gyozas), Grilled Steaks, Salads, Seafood
Hours:
Tue-Sat: 8:30pm to 10:30pm, Sun: Closed, Mon: Closed

Review Summary
Aramburu Restó is seventeen courses (assuming you can call a slice of bread a "course"), all interesting, all delicious. They looked as good on the plate as they tasted. An interesting, special-occasion destination and a requirement for "foodie" visitors to Buenos Aires.

The full review for Aramburu
Review by: Ollie O Rating: 4.5 stars Review Date: 12/12/2017
Gonzalo Aramburu has received more than a fair amount of praise, both locally and internationally, for his accomplishments at Aramburu Restó. At the time of our review, the restaurant offered only a tasting menu with 17 to 19 courses, varying somewhat from time to time, depending on availability of ingredients, and the mood of the chef. The cost of the dining experience in late 2017 was about $110 (ARS$2,100) without a wine pairing, US$170 (ARS$3,100) with the wine pairing. There is no a la carte menu.
As was our custom prior to 2018, we elected to experience the menu without the pairing.I was not totally unacquainted with Mr. Aramburu's talents prior to this evening. I had previously dined on multiple occasions at Aramburu BIS, the chef's more casual and reasonably-priced restaurant that was located a few blocks from the flagship restaurant. BIS is now closed. We had given BIS high marks across the board for creativity, execution and value. It's a pity that the bistro-style restaurant is now closed. With such excellent food and service at such reasonable prices, I presume that the location of that restaurant might have been the root of the problem.The same can be said for the location of this restaurant, however. Most of the city's gourmet dining establishment are located in Puerto Madero, Retiro, Recoleta, Palermo or Belgrano. Aramburu Restó sits on a narrow, secluded street in Barrio Constitución, with no sign out front, and no clue of what lies behind the front door.What does lie behind the front door is a humble, but tastefully decorated room, dimly lit, with a handful of tables seating well short of thirty diners. There's a small table, designated the "chef's table" that seats a maximum of four diners (three, comfortably) that faces the large display window, separating the dining room from the kitchen. That's where Chef Aramburu's brigade merrily goes about their business. And that's where I sat on the evening of my visit, which was the perfect perch for a review.Behind that glass, like a child with a tub full of Legos, the crew was busily constructing Chef Aramburu's gastronomical novel, a chapter at a time.It's evident from the presentation, that the crew visualizes this artistic endeavor, more as a picture-book, than a novel. Each plate has a beautiful little story that goes untold. They leave it to the diner to use their imagination to develop the storyline.First up, was a collection of crisp little tuiles, fabricated from a variety of seeds, nestled into a white chunk of coral, all interesting and unique. All tasty. Each looked remarkably at home atop the coral, as if plucked from the floor of some secret underwater world.Then there were several hors d'oeuvres. First, a slightly-sweet and slightly-savory macaron. Then, an apple and blue cheese "ravioli" that looked more like the carefully folded ties at a Boss Men's Boutique than the raviolis they serve-up over at Dominque's Italian Warehouse. That tiny canapé was topped with a puree of avocado and a frilly green crown.What self-respecting tasting menu wouldn't come without a pile of twigs mimicking the forest floor? It's all the rage in composition and presentation these days. A couple of scrumptious almond-stuffed morel mushrooms were hidden in this little nest.The pumpkin and pear cannoli looked perfectly at home hiding among the those baby pumpkins. It tasted good, too. I was reminded not to eat the pumpkins. They're saving them for next Halloween.The next "course" was a slice of dark sourdough bread with a smoked-butter. Maybe it was a "course", maybe it wasn't. One thing that's for sure, it was delicious.Time for something really refreshing ... tiny cherry tomatoes, bursting with flavor, accompanied by a tomato sorbet, and then, staying with the frosty and cool theme, a granita-crowned oyster on the half-shell. The next chapter was a stuffed squash blossom, then a radicchio and seafood salad, followed by a seared morsel of grouper with fennel shoots.Behind the glass, I had seen the clever little cooks injecting a luscious juice into a dumpling with a syringe. It tasted so good the cameraman ate it before we got a picture.Is that Romanesco? In South America? Wow. That little delicacy and the quail leg were delicious. I didn't eat the claw.The beef main course was probably the most normal course of the evening. That melt-in-your-mouth piece of tenderloin on a celery root purée was fantastic. Too bad it was only two bites! That's the tasting menu diner's lament.I was told that the fruity granita was a palate cleanser. I asked the waiter to put a pint of it in a plastic container to go. If that was the palate cleanser, the desserts would surely be something special!The first dessert course was a phyllo and popcorn ice cream sandwich. I thought the palate cleanser was a bit tastier. The ice cream wasn't quite right. This was the only faux pas in this entire War and Peace saga.The next dessert was an array of goodies featuring a chocolate fudge and a chocolate tuile or two, accompanied by some ice cream hiding under a foamy little cloud. Ha! But that wasn't just any ice cream. It was eucalyptus ice cream. If tooth paste tasted that good, your mother wouldn't have had to constantly remind you to brush your pearly whites. That last dessert was the final chapter in a culinary mini-series.Since the time of our visit, the restaurant has slightly improved their website. It still doesn't indicate the cost of the tasting menu, but it does have a contact link, the address and phone number of the restaurant, and more importantly, they've added the ability to make reservation online from a link on their website. Accordingly, we've updated the Logistics score and the Overall Rating for Aramburu.I've said it many times. I could live without these meals posing as elaborate productions. My preference is a perfectly executed appetizer, main-course and dessert. But the dining public seems to love these multi-act productions. And in defense of this one, out of seventeen morsels of food, I think all but one were executed perfectly.


Click the restaurant name or image to read the review
No items found
Click the restaurant image to read the review
No items found