1810 Regional - Buenos Aires
Palermo, Palermo Freud - Sensible, Retiro
Ambience

75%

Service

75%

Food

80%

Creativity

85%

Value

85%
Restaurant Details
Restaurant Details
1810 Regional - Buenos Aires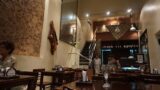 Locale: Palermo, Palermo Freud - Sensible, Retiro
Address: Marcelo T. de Alvear 868
Telephone: +54 11 4893-2525
Restaurant Type: Casual Dining
Cuisine: Argentine
Service Type: Table Service
Price: $$$
Menu items offered: Alfajores (cookies), Charcuterie, Coffee, Empanadas, Espresso, Roasted Meat Dishes, Salads, Soups, Tamales - Humitas
Hours:
Sun: 7pm to 12am, Mon-Sat: 11am to 4pm & 7pm to 12am,

Review Summary
Pleasant museum ambiance with array of well-executed local dishes. Try the stew sampler. Your choice of three.

The full review for 1810 Regional - Buenos Aires
Review by: Ollie O Rating: 4.0 stars Review Date: 03/14/2018
Argentina has an indigenous cuisine. And it's not steaks and pasta. People were eating in South America long before immigrants "discovered" the Americas. And remnants of that cuisine can still be found in Argentina. They are more prevalent in the northern regions of the country, but there are restaurants that still offer these ancient recipes, passed down through generations.
One of the first restaurants I frequented in Buenos Aires was La Querencia. That's where my love of these ancient stews, soups and casseroles was born. Cumaná, just blocks away, offers a similar cuisine, and has been one of the most popular restaurants in Buenos Aires for a decade.El Sanjuanino, in the heart of old Recoleta, behind the Alvear Hotel, has long been a favorite of residents in Recoleta. They also have a location in Palermo.A more recent addition to the list of restaurants in this genre is 1810 Regional Cocina, with locations in both Palermo and downtown (technically in Retiro). I recently visited the location in Retiro for dinner.There is one small dining room, accommodating perhaps, 30 diners, and another room upstairs, overlooking the main dining area, accommodating perhaps, another 10 to 12 diners. The décor is appealing. Pleasant neutral tones with a contemporary feel, exhibiting handwoven blankets from the northern interior of the country. The manner in which the relics are utilized gives a sophisticated, museum feel to the restaurant.The menu is fairly typical for this genre. Of course, an array of empanadas. The classic stews, locro (a white-bean and corn stew), carbonada (a sweeter stew that features corn and peaches), and mondongo a la criolla (a tripe stew). They also offer a traditional lentil soup. Please note that despite being based on legumes and corn, these stews are not vegetarian.There are pasteles, which are similar to a British cottage or shepherd's pie. And tamales, featuring a mixture of beef, corn meal, and ground corn wrapped and steamed in corn husks.The menu includes salads to accommodate vegetarians, but I assure you these salads won't win any awards for creativity.The service was attentive, but I note that the dining room only had three tables occupied at any one time during my visit so the service I received may not be indicative of what you'd receive on a busy night in the restaurant.What I really liked about the menu is that it offered a "sampler" that allowed you to pick any three of the stews served in smaller portions so that you can sample a variety of these traditional "cazuelas" and "guisos".I had a traditional beef empanada. Excellent. And the sampler with the locro, carbonada, and mondongo. They were all flavorful and perfectly prepared. If you've never eaten tripe, don't be shy. It's tender and delicious. Not the least bit chewy. I thought all three stews were excellent.The prices were reasonable. The sampler, which was more than I could finish, was only about US$11 (170 pesos) at the time my visit in mid-2017.1810 Cocina Regional is an excellent choice for discovering Argentina's real indigenous cuisine. If you're close to either location, I think this is as good a choice as any in the city although I do think that the restaurant El Sanjuanino offers a slightly more "traditional" ambiance. You likely won't have a wait for a table which might be your fate at restaurant Cumaná.


Click the restaurant name or image to read the review
No items found
Click the restaurant image to read the review
No items found