1516 Cervecería
Palermo Soho, Recoleta
Ambience

85%

Service

85%

Food

90%

Creativity

90%

Value

90%
Restaurant Details
Restaurant Details
1516 Cervecería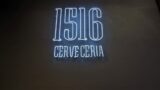 Locale: Palermo Soho, Recoleta
Address: Juncal 1293
Telephone: +54 11 4811-1822
Restaurant Type: Brewpub, Fast Casual
Cuisine: Burgers
Service Type: Table Service, Take-out
Price: $$$
Menu items offered: Cheesecake, Chocolate Cake, Coffee, Empanadas, Fried Calamari, Grilled Steaks, Hamburgers, Salads, Sandwiches, Tapas - Finger Foods - Snacks
Hours:
Mon-Thu: 11am - 1am, Fri-Sat: 11am - 2am, Sun: Closed

Review Summary
1516 Cervecería's new location in Recoleta, serving artisanal beer from local brewers Antares, Cheverry and Ogham, has a well-executed, creative menu, better than similar types of bars in the area. There's also a location in Palermo and one at the Beach Resort, Cariló.

1516 Cervecería opened in 2018 in the heart of Recoleta on the downtown side of Callao, a stone's throw from Plaza Vicente Lopez. 1516 Cervecería is but another brewpub, selling bar food and artisanal beers that has recently opened in Argentina's big capital city. That's about 30 or 40 of these types of beer dispensaries that have opened in the past year. At this rate they might soon surpass pastry shops and cafes.
1516 Cervecería serves up about 12 varieties of artisanal beers from three local brewers, Antares, Cheverry and Ogham breweries. Light lagers, dark stouts, and everything in between. Antares was Argentina's first serious producer of quality artisanal beers and, in fact, operates their own chain of brewpubs offering a diverse menu, in addition to their full range of beers and ales. The beer, from these three producers, offered on tap by Cervecería 1516, is better than respectable. But if 1516 Cervecería is going to distinguish itself from Antares and the host of other artisanal beer joints that are popping up in Buenos Aires, it's going to have to do it with food, décor and service. And perhaps, location. This is a great location for this bar. There's not more than one similar bar in this part of the barrio and the neighborhood is full of residents that can afford to buy a burger and beer. That brings us to the décor. It's pleasantly decorated with a clean industrial loft feel. Apropos in this genre. There's a scattered lot of big screen televisions for those wanting a bit of entertainment of that type. Perhaps the seating isn't the most comfortable, but it's as good as anything else this genre, including On Tap, Cervelar and Patagonia. If there is a "con" in the ambiance category it's that the entire front of the restaurant is fully open, making the entire front dining area susceptible to climate changes. It gets cold in there during the winter. There is, however, a back dining area better separated from the elements. What about the food? This is where 1516 Cervecería begins to shine. The menu, although burger-centric, is otherwise, creative. They make the typical error of thinking that the bun defines the burger, which of course, it doesn't. A burger has to have ground beef or something that attempts to mock ground beef. That's the way they did it in Hamburg. Thus, the name, "hamburger". If you bread and fry a chicken breast and put it inside a burger bun, it's chicken sandwich with burger bun … it's not a hamburger nor burger. Burger lesson over. Despite that faux pas, I like the choice of being able to have a host of gourmet toppings on top of your choice of beef, pork or breaded chicken. The burger was very good. I ordered mine, "jugoso" (medium rare) and received some spiel about rare meat being prohibited by law. Making a customer choke on a dry burger is what should be prohibited by law. I begged her to bring it as rare as they could. What arrived was a bit overcooked for my taste, but acceptable. It could have used a bit more fat in the blend. Acceptably seasoned. Fresh baked, bun. Fresh ingredients. Overall, a better than acceptable burger. Nothing to shy away from. The menu also offers 1516 Cervecería's take on cheese fries. They serve up "papas rusticas", that are thick, oven-baked potatoes, that get crispy on the outside, and are crowned with your choice of four toppings, and at a different spot in the menu, they offer a "salchipapa" on which the topping includes the three most important food groups, sausage, sausage and cheese. Prefer your food from the sea? You're in luck. They have fried calamari. Pretty good rendition at that. What? A menu without pasta in Buenos Aires? That's right. But there was a hint of Italian cuisine in that menu. I tried the big meatballs. Perhaps a tiny bit short on fat making them a little less juicy than I would have preferred, but the sauce was extraordinarily good. I want that recipe. Service, by a young group of female waitresses, was a bit inattentive, but still better than average compared to similar restaurants. Summing it up. The food is way better than what you find at On Tap, Cervelar, Patagonia, Berlina and Antares brewpubs, strewn throughout the city. It's about as good as it gets in this brewpub genre. The menu is more creative and better executed. Enough options to satisfy most customers. But not so many, that most of them are poorly executed, which is what happens at Antares. I'd put this experience on par with Abocado, which also received high marks. This is the best choice for brews and bites within a 30-block radius. We think it's worth wearing a bit of tread off the soles of your shoes to visit 1516 Cervecería. But if you come on a cold day, try to sit in the back room! We note that there is a second location in the back-corner of Palermo Soho on Cabrera between Uriarte and Godoy Cruz. We haven't visited this location but believe the experience would be on par. Needless to say, there's a heck of lot more competition to choose from in that neck of the woods.


Click the restaurant name or image to read the review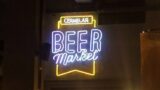 Cervelar – Buenos Aires
Neighborhoods: Retiro
Service options: Table Service
Cuisine(s): Burgers, Hot Dogs, Tapas - Finger Foods
Rating: 3.8 stars Cost: $$$ . Price: Gastropub
---
Dellepiane Bar – Buenos Aires
Neighborhoods: Tribunales
Service options: Table Service, Take-out
Cuisine(s): Burgers, Sandwiches
Rating: 4.5 stars Cost: $$$ . Price: Brewpub, Fast Casual
---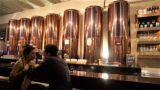 Antares – Buenos Aires
Neighborhoods: Caballito, Las Cañitas, Palermo, Palermo Soho, San Isidro, San Telmo, Villa Devoto
Service options: Table Service
Cuisine(s): Eclectic
Rating: 4.1 stars Cost: $$ . Price: Brewpub, Casual Dining
---
Click the restaurant image to read the review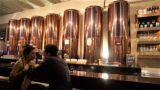 Antares – Buenos Aires
Neighborhoods: Caballito, Las Cañitas, Palermo, Palermo Soho, San Isidro, San Telmo, Villa Devoto
Service options: Table Service
Cuisine(s): Eclectic
Rating: 4.1 stars Cost: $$ . Price: Brewpub, Casual Dining
---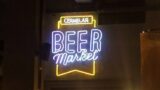 Cervelar – Buenos Aires
Neighborhoods: Retiro
Service options: Table Service
Cuisine(s): Burgers, Hot Dogs, Tapas - Finger Foods
Rating: 3.8 stars Cost: $$$ . Price: Gastropub
---
Dellepiane Bar – Buenos Aires
Neighborhoods: Tribunales
Service options: Table Service, Take-out
Cuisine(s): Burgers, Sandwiches
Rating: 4.5 stars Cost: $$$ . Price: Brewpub, Fast Casual
---